All parts installed separately in cilent's side
Completed system including solar panel and bracket,battery and bracket,inverter, PV controller and box,distribution box with lightning proof,cable etc parts.
AC charging function available (if necessary)
Grid connection available (if necessary),the grid can provide power to the system
automatically when the battery capacity finished.
We can provide design according to client's requirement.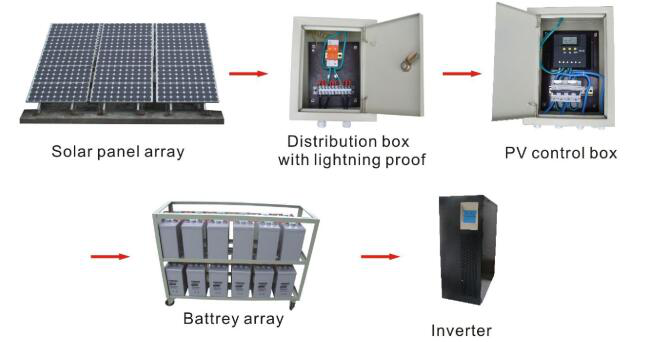 MODEL NO
WATTAGE

(W)

SOLAR

MODEL

(W)

LEAD-ACID BATTERY
OUTPUT VOLTAGE
INVERTER
PV CONTROLLER
DYNAMOELECTRIC

CAPABILITY(DALIY)

Battery Capacity
TYPE
QTY
SSP-500
500
2x250W
12V 150AH
4
AC110/230V
24V1KW
24V30A
1.0-3.0KWH
4.6KWH
SSP-1000
1000
4x250W
12V 150AH
8
AC110/230V
48V2.0KW
48V30A
2.0-6.0KWH
9.3KWH
SSP-1500
150
6x250W
2V 400AH
24
AC110/230V
48V2.0KW
48V40A
3.0-9.0KWH
12.5KWH
SSP-2000
2000
8x250W
2V 500AH
24
AC110/230V
48V3.0KW
48V50A
4.0-12.0KWH
15.6KWH
SSP-3000
3000
10x300w
2V 800AH
24
AC110/230V
48V5.0KW
48V60A
6.0-18.0KWH
25.0KWH
SSP-5000
5000
20x250w
2V 600AH
48
AC110/230V
96V10KW
48V50Ax2
10.0-30.0KWH
35.0KWH
SSP-6000
6000
20x300w
2V 800AH
48
AC110/230V
96V10KW
48V50Ax2
12.0-36.0KWH
50.0KWH
SSP-8000
8000
32x250w
2V 1000AH
48
AC110/230V
96V10KW
48v40Ax4
16.0-48.0KWH
63.0KWH
SSP-10000
10000
36x280w
2V 600AH
96
AC110/230V
192V15KW
48v60Ax4
20.0-60.0KWH
75.0KWH